6G@India leapfrogging to 6G
Communication technology is ever evolving, from the early days of fourth generation (4G), when the newfound gaming graphics bowled the world over, to the recent promise that 5G brings to us in terms of heightened connectivity. Today, as India embarks upon its own unique 5G journey, the global telecom sector has already initiated strides towards creating 6G or sixth generation communication technology as the next big thing on the communication horizon. Despite being at a concept stage, 6G technology is making waves with its promise of unified human-machine and machine-machine connectivity and offers a glimpse of what lies in store for the world as Vision 6G draws closer.
6G will build upon 5G technology and provide more reliable, ultra-low latency and affordable solutions with speeds almost 100 times faster than 5G to enhance and drive new communication applications. These technological advances will impact not just user experience but also transform economies and lives everywhere. It will very likely include intelligent network management and control, and integrated wireless sensing and communication, while balancing the potential consequent carbon footprint with reduced energy consumption and a myriad of sustainable and eco-friendly initiatives.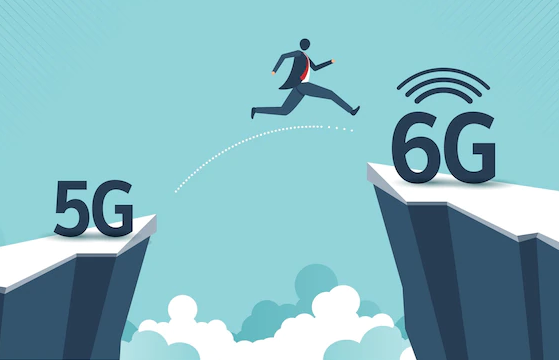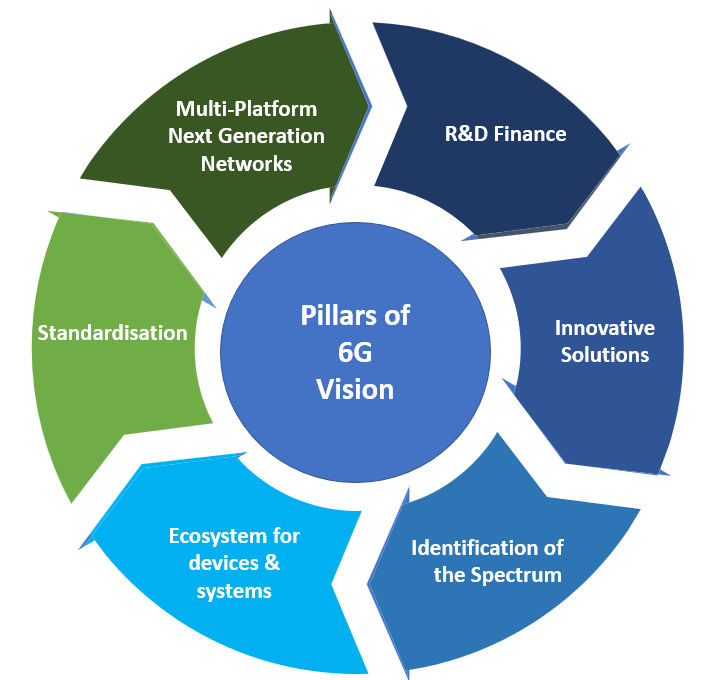 The Department of Telecommunications has constituted the Technology Innovation Group (TIG) for 6G in end of 2021 and brought experts from industry and academia together to make recommendations on 6G vision for India to leapfrog in next generation technology development. It formed six taskforces to deliberate on pillars of 6G vision.
6G Technologies
The Sixth-Generation(6G) wireless communication system is the successor to 5G Cellular Technology. 6G Technology Networks would be able to use higher frequency spectrum (in Sub Tera Hertz and Tera Hertz range) than 5G networks and will enable higher data rates (1 TBPS), much lower latency level-one micro-second or even sub-microsecond latency communications and making immersive communication, holographic telepresence, and AR/VR as default means of communication.
More About 6G
6G would require 5-6 years for developing Definition and Standards by 3GPP (3rd Generation partnership project)/ International Telecommunication Union (ITU) and ecosystem subsequently for development of network equipment, devices, use-cases and solutions and finally commercial deployment by 2030.
There are already a number of 6G technology R&D projects underway on Global and regional levels viz., Next G Alliance in North America, Hexa-X , GeneSIS and 6G-IA in Europe, B5G Consortium and NICT in Japan and 5G R&D Strategy and ETRI in South Korea.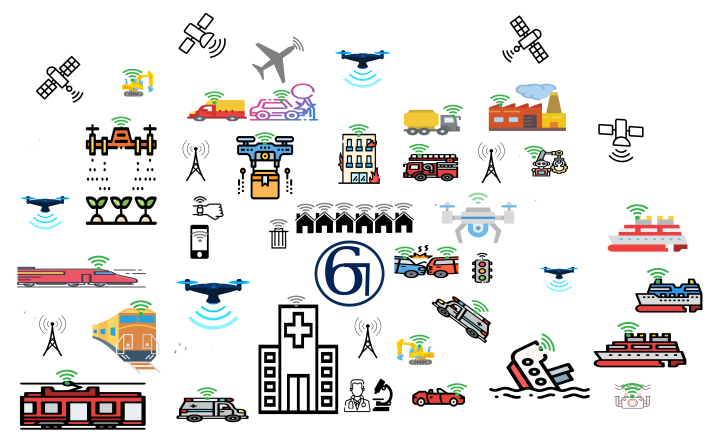 To take early leadership position in 6G Technology, work on 6G roadmap has been started in India. Department of Telecommunications (DoT), has started following initiatives: –  
Department of Telecom (DoT) constituted a 6G Technology Innovation Group (6G-TIG) with Secretary (Telecom) as chair. Six (6) Task forces are constituted with stakeholders from Governments, Academia, Start-ups and Industry with mandates to study, discuss, rope in global experts to mentor task forces and prepare reports on – Multi-Platform Next Generation Networks; Spectrum Policy; Multi-disciplinary Innovative Solutions; Devices; International Standards contribution; Financing Research and Development. The 6G-TIG is mandated to submit report(s ) and also prepare whitepaper on

"6G Mission Program

" and roadmap for contribution to "WP-5D on Research views on IMT for 2030 and beyond".

Telecommunication engineering Centre (TEC), a Standard Setting Organization under DoT, has created  a new

6G Technologies Division in January 2022, to cater to changing work environment, emerging mobile technologies and enhanced role envisaged for TEC in niche technologies.

Telecommunications Standards Development Society of India (TSDSI), India's Telecom SDO (Standards Development Organisation), began deliberations on 6G through an introductory workshop on " Telecom technologies for next decade " on 29

th

January, 2020. A study on use cases, requirements and technologies towards 6G is currently in progress in the Network Study Group of TSDSI. TSDSI is contributing towards 6G vision of ITU-R [

IMT VISION Towards 2030 and Beyond

], with four key technology pillars-Technologies that aid development of a Ubiquitous Intelligent Mobile Connected Society; Technologies to Bridge the Digital Divide; Support technologies that can personalize / localize services; Support technologies that can mimic real world data ownerships and hierarchies.
6G technology will be Ultra flexible Next-Gen technology to support an unprecedented variety of use-cases, touching every aspect of human life, sophisticated and high QoS such as holographic communication, augmented reality/virtual reality / Mixed reality, underwater communication and many more.  Telepresence, massive twining, Robots to robots would be ubiquitous in 6G.
Global Reports on 6G Future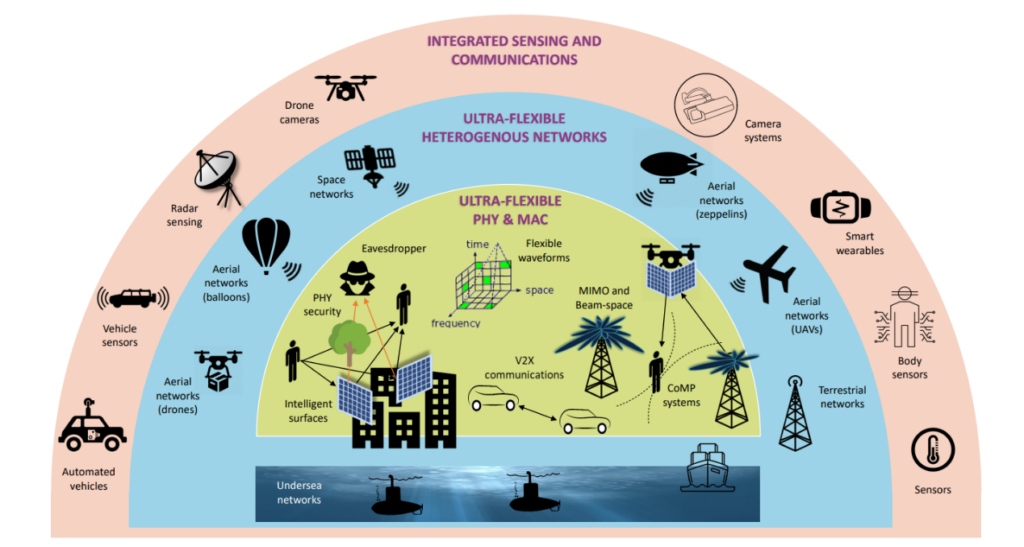 DoT taskforces on Key Pillars (Summary)