Spectrum for Technology Development
Ease of Doing R&D
Spectrum is a key socioeconomic resource for the larger public good, with power to multiply opportunities under Digital India. Availability of spectrum is important for the proliferation of the Wireless technologies. Spectrum reforms have always been at the core of telecom sector reforms. From easeof access to R&D spectrum and large swaths of delicensed spectrum for Public Wi-Fi and Short Range Devices, it has always been very important to the industry as well as for the Government.R&D spectrum for indoor use is offered at a cost of Rs 5000 per band through self-declaration for a period of one year (renewable). This comes bundled with other licenses including – Import of necessary R&D equipment, Possession of Wireless equipment, Demonstration license at other places.
Apply for various spectrum licenses Experimental, Manufacturing, Demo, Trails, ETA etc.,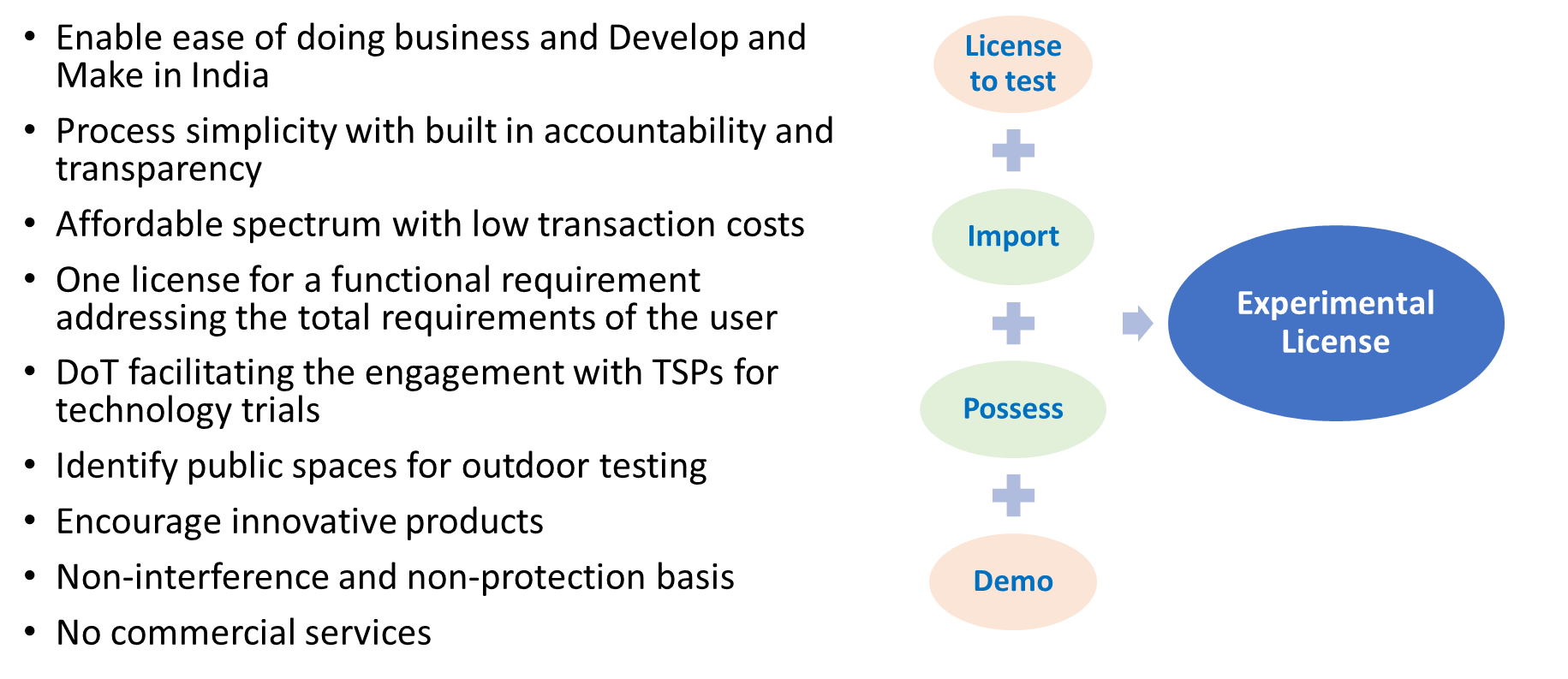 DoT's R&D spectrum policy gives a big boost to wireless technologies' development and manufacturing in the country promoting India as a hub of wireless technologies.
Denoted by the industry as one of the best globally, several 5G testbeds have been established in the country enhancing Indian contribution in global technologies.
Taking this forward, DoT launched online licensing for "R&D, Demonstration and Manufacturing and Testing licenses" on Saral Sanchar Portal on 29th June, 2021, which will stamp India's arrival as a hub of wireless products with enhanced contribution in global technology value chain.
Recent Spectrum Reforms
Realising the importance of spectrum reforms, the Government has approved the following:
Sharing of spectrum has been allowed between two service providers without any financial burden. The requirement of payment of additional 0.5% of AGR as Spectrum Usage Charges (SUC) has been removed.

The validity period of spectrum acquisition in future auctions has been increased from 20 to 30 years.

Service providers can surrender the spectrum after a period of 10 years.

Spectrum auctions will be conducted regularly on annual basis.

Levy of Spectrum Usage Charges (SUC) on the spectrum to be acquired in future auctions has been removed.

Requirement of submitting a Financial Bank Guarantee (FBG) to securitize the annual deferred spectrum instalments in future auction has been removed.
These reforms will provide flexibility to telecom service providers. TSPs will be able to plan future networks and investments more efficiently. Removal of charges and enabling sharing will also reduce the financial burden of service providers.
It will contribute towards efficient use of scarce resources thereby making a more competitive and robust sector. This will in turn enable a healthy telecom industry ultimately leading to better service quality.
5G Trials
Department of Telecommunications (DoT) has granted permission to Telecom Service Providers (TSPs) namely, M/s Bharti Airtel Ltd., M/s Reliance Jio Infocomm Ltd., M/s Vodafone Idea Ltd. on 27th May 2021 and M/s Mahanagar Telephone Nigam Limited on 23rd June 2021 for conducting 5G Technology trials with a validity period of 6 months. Subsequently based on the request by TSPs the permissions have been extended for another period of six months up to 26.05.2022 or till the date of assignment of spectrum for commercial use post auction whichever is earlier. Spectrum has been assigned to the TSPs in 700 Mega Hertz (MHz), 3.5 Giga Hertz (GHz), 26 GHz, V band and E band as per the requirements in different License Service Areas. Telecom Service Providers (TSPs) are conducting 5G trials in Delhi, Mumbai, Jamnagar, Ahmedabad, Kolkata, Chennai, Hyderabad, Bengaluru, Lucknow, Gurgaon, Gandhinagar, Chandigarh, Pune and Varanasi including urban, semi-urban and rural areas. It is prerogative of TSPs to launch 5G service in different cities as per their business/network plans. 
5G Spectrum 
The Department of Telecommunications (DoT), through its letter dated 13th September 2021, had, inter-alia, requested TRAI to furnish its recommendations on "Auction of spectrum in the frequencies identified for International Mobile Telecommunications (IMT) / 5G". The recommendations were sought on applicable reserve price, band plan, block size, quantum of spectrum to be auctioned and associated conditions for auction of spectrum in 526-698 MHz, 700 MHz, 800 MHz, 900 MHz, 1800 MHz, 2100 MHz, 2300 MHz, 2500 MHz, 3300-3670 MHz and 24.25 – 28.5 GHz bands for IMT/5G. 
TRAI has released recommendations on 'Auction of spectrum in frequency bands identified for IMT / 5G' on 11th April 2022 based on the comments/inputs received from the stakeholders and on its analysis. The recommendations made by TRAI include recommendations related to Auction of Spectrum for 5G/IMT such as Quantum of Spectrum to be auction, Band Plan, Block Size, Eligibility Conditions for participation in Auction, Interference mitigation in TDD bands, Roll-out obligations, Spectrum Cap, Surrender of Spectrum, and Valuation and Reserve Price of Spectrum. In addition, considering the importance of 5G in Industry verticals, recommendations relating to spectrum for Captive wireless private networks and Identification, Development & Proliferation of 5G Use Cases have been made. 
5G Spectrum Auctions
Spectrum acquired through auctions can be used by the telecom service providers (TSPs) for deployment of any technology, including 5G. The 5G services are to be introduced gradually and will advance to full range of services as ecosystem and demand for services grow. Government has made available spectrum in 700 MHz, 800 MHz, 900 MHz, 1800 MHz, 2100 MHz, 2300 MHz, 2500 MHz bands for assignment to TSPs through auctions conducted from time to time. Government has conducted auction of spectrum in 700 MHz, 800 MHz, 900 MHz, 1800 MHz, 2100 MHz, 2300 MHz and 2500 MHz bands in March, 2021. Government has also auctioned spectrum in low band (600, 700, 800, 900, 1800, 2100 and 2500 MHz bands), mid band (33MHz band), high band (26GHz) in the month of July August 2022. It is expected that spectrum acquired by TSPs through these auction will help them improve their network quality and service and also help them roll out 5G services.