5G Use case Pilots – Digital opportunities for user agencies & communities:

To accelerate India's Digital Transformation across socio-economic verticals by leveraging 5G Technology, the Department of Telecommunications (DoT), through an "Inter-ministerial committee on 5G use cases and applications",   Telecom Startups & MSMEs Mission (TSuM) & 5G Vertical Engagement Partnership Program (VEPP), has been facilitating collaborations of Digital Communication Tech – startups & SMEs and other use case industry members to potential user communities viz. State governments, Smart cities, Aspirational districts, vertical industries etc.
Centre for Development of Telematics (C-DOT), DoT being a pioneer in emerging Digital communication Technologies, is front-ending the "5G use case promotional pilots" for deploying 5G/4G/IoT innovative solutions of Startups & SMEs. User communities such as vertical ministries, Aspirational districts, Smart cities etc. can undertake pilots/deployments of innovative 5G use cases for enhanced service delivery by funding startups & MSMEs through C-DOT.
Potential Users & communities:
Vertical Ministries (Agriculture, Automobile &Transport, Education, Health, Manufacturing, Logistics, Mining, Ports & Airports, Power, Railways, Smart Cities, Tourism etc.)

Rural- Aspirational Districts/District administrations

Urban- Smart cities/Municipalities

Central & State PSUs, Development corporations/councils

Academia/Centre of Excellences/

Vertical industries such as Airports, Logistic Hubs, Factories, Agri Institutions, Power Utility Companies, Hospitals, Mining Agencies, Educational / Skill Development Institutions, Banks/Banking institutions, CoEs, Malls/Recreation centers/Retail stores, Tourism & cultural centers, Hotels, Ports, Airports, Stadiums, Manufacturing Units, etc.
User agencies can also test their customized 5G use case solutions at the Indigenous 5G Test Bed site at IIT Madras
Note: Pilots/Deployments can start at the places having 5G/4G Coverage, for the areas where connectivity is an issue, the coverage can be extended using digital connectivity solutions by startups such as- Point to Point wireless links (Free space optics & Wi-Fi radios), 5G/4G Fixed Wireless Access (FWA)- Customer Premises Equipment (CPEs) with the support of TSPs.
5G use cases promotional pilots/
List of Potential Use cases that can be piloted/deployed on 4G/5G/FWA- WiFi –
S.No
use case vertical/ Sector
Company
Use Case brief
Pilot/Deployment mechanism (One pager)
Name
Contact Number
Email ID
1
Health
AMBUPOD
Smart Auto Ambulance: 5G/4G Enabled Auto Ambulance with basic life safety support & measurement of vitals with remote doctor support.
Brief
Dr. Lavanian Dorairaj
9970921266
lavanian@gmail.com
2
Health
ARTELUS
Portable Fundus Camera with AI chip: A simple easy to use fundus camera that has automatic capture assistance for clicking retinal images of the patient. AI Engine that provides a preliminary report of the diabetic retinopathy
Brief
Dipan Roy
9820894321
droy@artelus.com
3
Health
ASTROMEDA
SmartVest: 5G/4G/IoT enabled wearable, washable vest that can accurately record physiological parameters like ECG, GSR, EMG, heart rate, respiration rate, Spo2 & temperature.
Brief
Rajaguru
8553727320
rajagurunathan.k@gmail.com
4
Health
DEEP FACTS
Smart devices for ECG & other vitals monitoring
Brief
91009 55845
ceo@deepfacts.io
5
Health
SUPERCEUTICALS
Smart Health Kiosk (Testing 90+ parameters)
Brief
Nidhi Rachana
7651836081
rrachnna@superceuticals.in
6
Health
Scanbo
SMART CLINIC PARTNER- RECORD 8 VITAL PARAMETERS IN UNDER 3 MINUTES
Brief
Gajebdra Upadhyay
70118 20140
gajendra.upadhyay@scanbo.com
7
Education
TECH XR
Smart Class Room with Low cost interactive Device
Brief
Prashant Kumar Mishra
8889500018
mishrap@gmail.com
8
Education
Easiofy
Smart Education Platform- (Digital Text Books with Lab simulator)
Brief
Noor Fatma
9958499337
noor.fatma@easiofy.com
9
Skill Development /Training
AJNALENS
AR/VR stations with Low cost Smart glasses- (welding and spray painting training at Industrial Trianing Institutes(ITI) in rural areas.)
Brief
1. Mallesh Gaddam
2. Rishi Desai
1. 8779962855
2. 9727774744
1. mallesh@ajnalens.com,
2. rishi@ajnalens.com
10
Skill Development/Training
Imaginate
AR/VR platform & stations forPlumbing, Workshop, welding etc.
Brief
Hemanth Satyanarayana
9966010133
hemanth@imaginate.in
11
Agriculture & Dairy
Pssel Instruments
Agro meteorological weather stations for farmers and other users with IoTs
Brief
Puneet
98666 58383
puneet@metos.asia
12
Agriculture & Dairy
Dvara - Surabi
SURABI ID -Biometric solution for cattle insurance & DVARA- Health status of cattle
Brief
Ravi
96770 94224
ravi.ka@dvara.com
13
Agriculture & Dairy
BKC AGGREGATORS
"FASAL SALAH" app- real time personalized crop advisory based on current & forecast weather.
Brief
B.K.Singh
9810062673
bk@weathersysbkc.com
14
Agriculture & Dairy
Ilogitron
i-sync Smat AgriTech- IoT platform & Devices
Brief
Abishek
9485008081
dhar.abhishek@iLogitron.com
abhishekdhar29@gmail.com
15
Agriculture & Dairy
CARNOT TECHNOLOGIES
IoT device that can be retrofit onto any tractor or harvester & SIMHA App
Sandeep
8340699566
SANDEEP.SINHA@CARNOT.CO.IN
16
Agriculture & Dairy
TCS
provide near-real
time crop health analytics remotely-
remote operation of
farm using UGV, Decision
Support System
Brief
Arun Kumar
9972873333
arunkumar.km@tcs.com
17
Agriculture & Dairy
INVAS Technologies (P) Ltd.
The product is developed to monitor and automate the irrigation remotely to help farmers at the same time provide a high level view to the Govt agencies to monitor and provide support and knowledge to farmers and concerned Govt agencies using OneM2M technology.
Brief
Neeraj Dhawan
9811008141
neeraj.dhawan@icloud.com
18
Agriculture & Dairy
IG Drones
Agridrone with spraying and analytics capability
Brief
Mr. Om
6370868100
Om@igdrones.com
19
Agriculture & Dairy
DigiCrop
Connected Agriculture to bring bring transparency & treceability for agriculture product. Representing as digital crop passport.
Brief
Dhananjay Zinge
962002484, 9148705605
Dhananjay.Zinge@digi-crop.com
20
Agriculture & Dairy
Nibiaa Devices Pvt.Ltd
Digital solution which will save them upto 30% of the input costs in the form of Fertilizer, water saving with sensors and actuators and make it easy to monitor Agricultural farms in remote hill areas with the help of Mobile App and Web-Platform
Brief
Aeroshil Nameirakpam
8794188781
aeroshil@nibiaa.com
21
Water Management
NIMBLE VISION
Drinking Water Tank- level indication, Automation, Quaility monitoring,
Schools/PHCs- Drinking water plant automation
Water ATM-
Brief
Chinnayya Math
9535271529
ceo@nimblevision.io
22
Fisheries
Innogle
Smart fisihing cage for ponds and Life saftey watch for fisherman, Smart fishing for Deep sea techniques
Brief
Shobana
99419 09070
shobana.u@innogle.com
23
Fintech & Smart cities
Finaara
Rural - Remittance, cash deposit & withdrawal machines & Bank on wheels,
targeting cash deposit & withdrawal from any account (QR code based), Cross border remittance- multi currency deposit & withdrawal (targeting migrant workers communities & rural population)
Brief
Uthayshankar
99419 09030
Uthayashankar.v@finaara.com
24
Smart cities / Survelillance
Sparsh
5G/4G enabled wireless cameras with edge analytics & AI for face and number plate detection
Brief
Sanjeev
92121 75453
sanjeev@sparshsecuritech.com
5G would contribute an economic benefit of $1 Trillion by 2035 in India - 5G HLF Report (DoT, MeitY, DST)
Stakeholders are encouraged to establish '5G Use case Labs' in Academia, Industry, Service Providers, CoEs considering the significant opportunity for adoption of next generation communication technologies across verticals.
Taking note of this key opportunity for the adoption of next generation mobile technologies in economic verticals, the DoT in partnership with Ministry of Electronics and IT and Department of Science and Technology has constituted an inter-ministerial committee under Member (Technology), DoT to proactively promote 5G usecase engagement across stakeholders including Vertical Industries, Service Providers, CoEs, Solutions Providers, System integrators, OEMs and Government.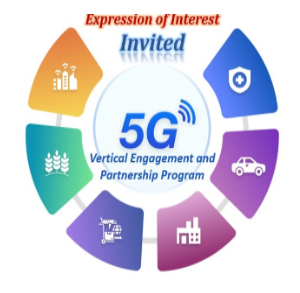 Telecom Broadband technologies including Mobile, IoTs have become the harbinger of new age applications and uses in economic verticals through highspeed-ubiquitous connectivity. The wireless broadband highways and edge computing has enabled AI, Data analytics close to the usage point thus multiplying next generation applications. 
The Digicom Portal presents twelve user verticals to begin with. 
Agriculture

Automobile | Transport

Education

Emergency

Health 

Industry 4.0

Logistics

Mining | Ports | Airports

Power

Railways

Smart Cities

Tourism
Resources
List of 5G/4G/IoT usecases (a limited view vertical-wise)

List of Nodal officers from Ministry/Department for 5G usecase Enablement

List of Nodal Points from Industry

5G Usecase White Paper released by DoT

List of CoEs identified for in Vertical Ministries

5G Testbed access
List of 5G/4G/IoT usecases (a limited view vertical-wise) and entities offering the Solution
Vertical
S.No
Use cases
Industry
Capabilities
1.Smart city, Water Resources
1
Smart Surveillance
RJIO
L&T+VIL
TechM
TCS
Calligo
ARKIN labs
MEC,
emBB,
uRLLC (in some cases)
2
Traffic Monitoring (Product Delivery)
VIL+Vizbee
WIPRO
TechM
MEC,
emBB,
3
Smart ambulance
Airtel
VIL
RJIO
L&T
Ambupod
eMBB
uRLLC (in some cases)
4
Water & Sewage management
Nimble Vision
eMBB
mMTC (in some cases)
5
Solid Waste Management
TechM
L&T
6
Building Operating System
Qualcom
Enlite Research
eMBB
uRLLC (in some cases)
7
Integrated Control Command Centre
TCS
TechM
L&T
eMBB,mMTC,urLLC
8
Health ATM Solution
Superceuticals Analyzer Network
S.No
Use cases
Industry
Capabilities
2. Health
1
Remote Consultation/diagnosis:
Tele-robotic Radiology for Remote Diagnostic
Rjio
TechM
Easiofy
Infosys
WIPRO
eMBB
uRLLC (in some cases)
2
Mobile Rural Clinic
Ambupod
Airtel
eMBB
3
Dioacom/Medical imaging
Easiofy
eMBB
4
Remote Patient Monitoring
Infosys
eMBB
5
Smart ambulance
Airtel
VIL
Rjil
L&T
6
Health ATM Solution
Superceuticals' Analyzer Network
Sl. No
Use cases
Industry
Capabilities
3. Education, Sports, Infotainment, Skill Development, Tourism
1
5G start-up kit for universities
Tidal wave
Amantya
Lab environment with all capabilities
2
AR/VR/MR based learning/training
RJIL
Qualcomm
Easiofy
MS Hololense
eMBB
3
Smart Class room (incl. infra structure for AR/VR, intelligent listening devices etc. )
RJIL
TechM
Learning Matters
eMBB
4
Remotely monitoring students from examination centre/Home
TCS
eMBB
Sl. no
Use cases
Industry
Capabilities
4. Power, MRO, Resource Management
1
Smart Grid
Rjio
TechM
Ericssion
L&T
eMBB
uRLLC (in some cases)
2
Predictive maintenance
Ericsson
eMBB
3
Digital generation: Safety & Suvillance
TechM
Ericsson
eMBB
uRLLC (in some cases)
4
Asset integrity management
Intertek
TechM
eMBB
mMTC ( in some cases)
5
Smart metering (dense environment)
Qualcomm
L&T
TCS
mMTC ( in some cases)
Sl No.
Use cases
Industry
Capabilities
5. Agriculture, Fisheries
1
Precision Agriculture- soil nutrient, moisture, temperature, PH etc.
L&T
Infosys
eMBB
uRLLC
2
Precision Live stock farming
RJIL
Vivaan
mMTC ( in some cases)
3
Precision Aquaculture
RJIL& Innogle
eMBB
4
Crop Pest Control
L&T
TechM
eMBB
5
Agricultural Land mapping and surveying using drones
Qualcomm
eMBB
Sl No.
Use cases
Industry
Capabilities
6. Mining, Projects
1
Fleet management system for Open mine
RJIL
Capgemini
BDL
eMBB
uRLLC (in some cases)
mMTC ( in some cases)
2
Remote Operated drill
RJIL
Capgemini
Nokia
Ericsson
eMBB
uRLLC (in some cases)
3
Safety & surveillance
TechM
LivNsense
Capgemini
TCL
eMBB
uRLLC (in some cases)
Sl No
Use cases
Industry
Capabilities
7. Logistics
1
Smart WareHouse management (Assets & inventory management /packaging/positioning utiliing IoTs/sensors, AGVs, AR/VR etc. & moniotoring humidity & other parameters)
Airtel
TCS
TechM
Wipro
Infosys
eMBB
mMTC ( in some cases)
2
Smart Fleet Management
RJIL
TechM
Qualcomm
TCS
BDL
eMBB
uRLLC (in some cases)
3
Cold Chain management
TCS
Qualcomm
eMBB
uRLLC (in some cases)
4
Drone based Delivery
RJIL
TCS
Multiple drone companies
eMBB
uRLLC (in some cases)
5
Digital Supply Chain
TechM
eMBB
S.No
Use cases
Industry
Capabilities
8. Intelligent transport systems
1
Assisted driving/Connected Vehicle(V2X)
incl. Alerting Sytems
Rjil
Maruti Suziki+ soar robotics+Capgemeini
TechM
eMBB
uRLLC (in some cases)
2
Smart e-Tolling
Qualcomm
3
Smart Ride Dashcam
Qualcomm
S.No
Use cases
Industry
Capabilities
9. Railways (4G, 4G adv & 5G)
1
Near real time train & freight analysis
DELL
TCS
eMBB
uRLLC (in some cases)
2
Surveillance, Traffic Management
Samsung
eMBB
mMTC (in some cases)
3
Driverless, sem-automated trains
Ericsson
TCS
eMBB
uRLLC (in some cases)
4
Realtime Asset & passenger Management (Vulnerability point monitoring
Automated Maintenancence of assets
Real Time Passenger Counting
Real Time tracking of Train Occupancy)
TCS
TechM
eMBB
uRLLC (in some cases)
5
Anti-collision avoidance system
Ericsson
CDOT
Indigenous consortium
eMBB
uRLLC (in some cases)
6
Tunnel communication & underwater communication (bullet train)
consortium
Leaky cables, eMBB
uRLLC (in some cases)
7
Unmanned Railway crossing
DSP Works, Sensorize
eMBB
uRLLC (in some cases)
S.No
Use cases
Industry
Capabilities
10. Ports & Airports & Commercial hubs
1
Smart Container/Asset/Freight Management
TechM
L&T
Ericsson
TCS
eMBB
2
Predictive Maintenance Port Machinery
TCS
Infosys
eMBB
3
AR/VR based assistance or triaining (Augmented Navigation)
TCS
MS Hololens
eMBB
4
Autonomous Trucks
Rjil
Ericsson
TCS
eMBB
uRLLC
MEC
5
Safety/Survillance/Emergency
TechM
LivNsense
Capgemini
TCL
Ericsson
eMBB
mMTC
S.No
Use cases
Industry
Capabilities
11. Industry 4.0
1
Smart Factories (incl. Shop floor Management, inspection, production efficinecy)
RJIL
Capgemini
Qualcomm
TechM
Ericsson
eMBB
MEC
uRLLC
mMTC
2
Smart WareHouse management (Assets & inventory management /packaging/positioning utiliing IoTs/sensors, AGVs, AR/VR etc. & moniotoring humidity & other parameters)
Airtel
TCS
TechM
Wipro
Infosys
eMBB
mMTCC
3
AR/VR based remote maintenance/assistance
Rjio
TCS
Infosys
MS Hololens
eMBB
List of Nodal officer From Ministry/Department for 5G usecase Enablement
Department of Telecommunications (Standards-R&D-Innovation Division)
Shri Subhash Chand, Director (SRI); dirsri2-dot@gov.in,Landline, Mobile 
Shri Alex Vikas, ADG, email, Landline, Mobile Shri Kishore Babu, DDG (SRI), ddg.sri-dot@gov.in, 011-23036010, 9599502288
Vertical Ministries
S. No.
Ministry / Department
Ministry Nodal person
Ministry Nodal Contact Details
1
Ministry of Housing & Urban Affairs
Mr. Kunal Kumar, Joint Secretary & Mission Director (Smart Cities Mission)
krkunal@ias.nic.in , 01123063255/
23062028
2
Ministry of Health & Family welfare
Mr Lav Agrawal, AS
alav@ias.nic.in,011-23061195
3
Ministry of Education
Mr PK Banerjee ,JS
pk.banerjee@nic.in, 011-23383432
4
Ministry of Power
Shri Vishal Kapoor,
JS(IT&CS)
vishal.kapoor@gov.in,011-23714000
5
Department of Agriculture & Farmers Welfare
Mr PK Meherda,
JS(IT)
pk.meherda@nic.in, 011-23386756
6
Ministry of Electronics and IT
Mr. S K Marwah
smarwah@meity.gov.in ,011-24365940
7
Department of Science & Technology
Dr. K.R. Murali Mohan, Head
(FFT) & (NM ICPS) &
Scientist 'G
krmm@nic.in, 011-26590319
8
Ministry of Ports, Shipping & Waterways
Shri Arvind Chaudhary, Economic Adviser
arvind.chaudhary@nic.in,
9
Ministry of Heavy Industries
Sh. Vikas Dogra, Deputy Secretary
vikasdogra71-cgo@gov.in, 23061565
10
M/o Road Transport and highways
Shri K C Shara, Superintended Engineer
Shri V K Rajawat, Chief Engineer(S&R)
kcsharma.rth@gov.in,
vk.rajawat@nic.in , 011-23736858
11
Dept. of Commerce, Ministry of Commerce and industry
Sh. Manish Chadha, Joint Secretary (DoC)
chadha.manish@nic.in;
12
Ministry of Mines
Dr. Veena Kumari D, Joint Secretary
veena.kumarid@gov.in, 23384334
13
Ministry of Tourism
Sh. Rakesh Kumar Verma, Additional Secretary (Tourism)
Js.tourism@gov.in, 011-23715084
14
Dept. of Water resources, river development & Ganga Rejuvenation, Ministry of Jalshakti
Sh. Sunil Kumar, Director(NWIC)
dir-nwic-mowr@gov.in,
15
Ministry of Coal
Sh. Anand Prasad, Project Advisor
Advp.moc@nic.in, 011-23386347
16
Dept. of youth affairs
17
Dept. of Sports
18
Ministry of Railways
Executive Director/ Tele Development
edtd@rb.railnet.gov.in, 011-23383138
19
Department of Agriculture Research and Education
Dr. Anil Rai, ADG ICT, ICAR
Dr. Rabi Sahoo, Principle Scientist, IARI
ADG.ICT@icar.gov.in
011-23385837
20
Department for Promotion of Industry and Internal Trade
21
Directorate General of Mines Safety (DMS)
Contact details of Solutions providers, SIs, Start-ups, TSPs(Limited)
S.No
Company Name
Name of Contact Person
Contact Number
Email Id
1
Airtel
Tarun Chitkara
9810299042
Tarun.Chitkara@airtel.com
2
VIL
Sanjeev Arora
9811918508
Sanjeev.Arora@vodafoneidea.com
3
RJIO
Vivek Abhinav
7291073511
Vivek.Abhinav@ril.com
4
Qualcomm
Sidharth Choudhary
9821044054
sidhchou@qti.qualcomm.com
5
Ericsson
Mayank Bhargava
9810077298
mayank.bhargava@ericsson.com
6
Nokia
Amit anand
9811799474
amit.anand@nokia.com
7
Samsung
Binu George
9654990351
binu.george@samsung.com
8
DELL
Saurabh Tewari
9560690488
Saurabh.Tewari@dell.com
9
CISCO
Manas Mehrota
9620015410
mmehrota@cisco.com
10
TCS
Sripradha Srinivasan
9840440719
sripradha.srinivasan@tcs.com
11
Infosys
Gnanapriya
9945225257
GNANAPRIYAC@infosys.com
12
L&T
Bala subramanian
7823985548
balasubramanian.s@lntecc.com
13
TechM
Kumkum Dutta
8105910100
kumkum.datta@techmahindra.com
14
Wipro
Ashish Khare
9741511339
ashish.khare@wipro.com
15
Microsoft
Vijay Jain
9810126393
vijayjain@microsoft.com
16
Capgemini
Monika Gupta
8527795961
monika.i.gupta@capgemini.com
17
Livensence
Kumar
9845161339
Kumar@livnsense.com
18
Sensorise
Manish Khare
9717003996
manish.khare@sensorise.net
19
Innogle
Shobana U
9941909070
shobana.u@innogle.com
20
Sparsh
Sanjeev Seghal
9212175453
sanjeev@sparshsecuritech.com
21
Ambupod
Dr Lavanian Dorairaj
9380305282
lavanian@gmail.com
22
Astromedha
Rajagurunathan K
8553727320
rajagurunathan.k@gmail.com
23
Easifoy
Noor Fatma
9958499337
noor.fatma@easiofy.com
24
Learning matters
Ramamoorthy G
9886627289
ramamoorthy.g@learningmatters.xyz
25
intertek
Anjan Sinha
9650992971
anjan.sinha@intertek.com
26
CIENTRA
Surya Patar
9886212362
surya.patar@cientra.com
27
Nimble vision
Chinnaya Math
9535271529
ceo@nimblevision.io
28
Arkin labs
Abishek
9968297548
abishek@arkinlabs.in
29
TWEEK Labs
Anant Sharma
8368623613
anant@tweek-labs.com
30
Amantya
Amit Gupta
9711880683
amit.g@amantyatech.com
31
Calligo
Dr. Sriganesh Rao
9845155800
Sriganesh.rao@calligotech.com
32
Vizbee
Vibhu Tripathi
9174817068
vibhu@vizzbee.com
33
Superceuticals
Nidhi Rachna
7651836081
rrachnna@superceuticals.in
34
Tridal Wave
Purav Choksi
9825600168
purav.chokshi@sea-shore.tech
35
Vivaan
Nishikant Sakharekar
9594033548
nishikant.sakharekar@vivaanss.com
36
TCL
Praveen Sharma
9999898000
praveensharma@tatacommunications.com
37
Maruti Suzuki
Shashank Bhatia
8800377898
shashank.bhatia@maruti.co.in
38
CDOT
Jayant Bhatnagar
9810998056
jayantb@cdot.in
39
DSP Works
Akshay Mishra
9869321611
akshay@dspworks.in
40
IIIT
Hyderabad
Dr Sachin Chaudhari
9160936363
Sachin.c@iiit.ac.in
Keeping in view India's specific requirements and to take lead in 5G deployment, DoT approved financial grant of Rs. 224 Crore in March 2018 for setting up a 'Indigenous 5G Test Bed', a multi-institute collaborative project. The 5G testbed, an open-box testbed, enables industry to go deeper into subsystem level for developing and testing their products and also to test the use cases at its edge.
The eight collaborating institutes in the project are IIT (Indian Institute of Technology) Madras, IIT Delhi, IIT Hyderabad, IIT Bombay, IIT Kanpur, IISc Bangalore, Society for Applied Microwave Electronics Engineering & Research (SAMEER) and Centre of Excellence in Wireless Technology (CEWiT).  The project has been completed on 31-12-2021.  
In order to facilitate development of indigenous technology in line with the spirit of 'Atmanirbhar Bharat' programme, the usage charges for the Test Bed have been kept nominal with nil fee for Startups and MSMEs for the next 6 months i.e. upto Jan,2023.